Supporting our Local Children's Hospital
Palmetto Citizens is proud to join credit unions around the country in supporting Credit Unions for Kids®, a cooperative effort to raise funds and awareness for Children's Miracle Network Hospitals.
$36,842 Raised!
Earlier this year, we raised funds for Prisma Health Children's Hospital - Midlands, our local Children's Miracle Network Hospital. With the generosity of so many of our members, staff and business partners, along with a corporate donation, we were able to present a check totaling $36,842!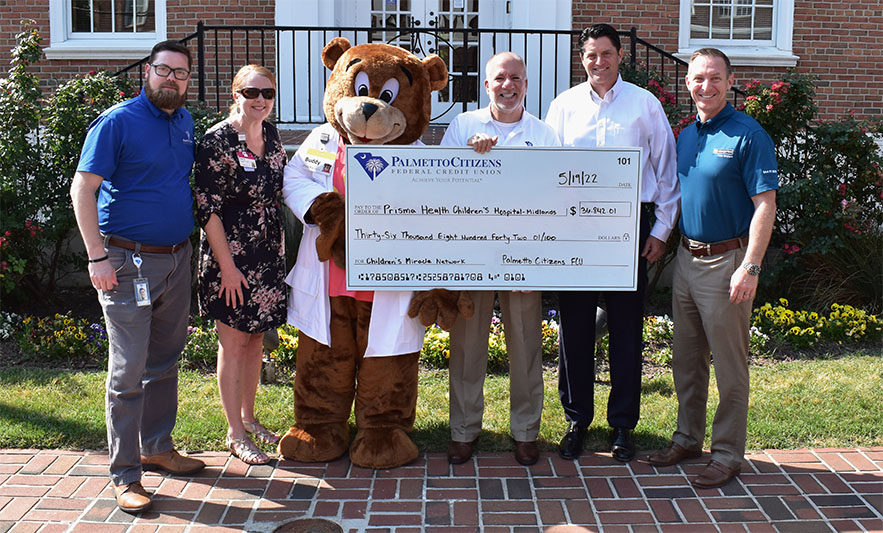 To reach this total, we collected donations in our offices and online, which were all matched by Palmetto Citizens. We also received a $10,000 donation from CO-OP Financial Services, our nationwide surcharge-free ATM network provider, as well as a $10,000 donation from our friends at Enterprise Car Sales through the Enterprise Holdings Foundation. We are very thankful for both of their continued support of our campaign.
Over the last five years, we have been able to raise nearly $190,000 for our local Children's Miracle Network Hospital. Since beginning our annual fundraising efforts for this cause in 2005, we have raised over $462,000!
This donation will directly benefit Prisma Health Children's Hospital - Midlands by providing medical care and support for children in the inpatient and outpatient facilities of the hospital. Each year, the hospital has more than 150,000 children's visits and offers more than 30 subspecialties to meet the medical needs of our state's children. Thanks again to everyone who helped in supporting this great cause!
If you would like more information on our community involvement efforts, please contact us via our Community Page, or call (803) 376-5035.