Investment & Insurance Options
Palmetto Citizens Trust & Investment Services, offered through CUNA Brokerage Services, Inc., is here to help you reach your financial goals. Working in cooperation with Palmetto Citizens Federal Credit Union, we can help you make sound financial decisions consistent with your risk tolerance and investment timelines.
Work With Someone You Trust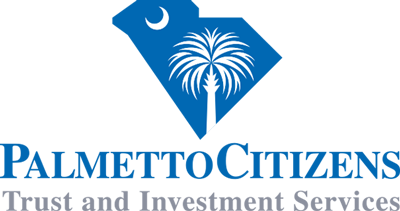 The Palmetto Citizens Trust & Investment Services program is offered through CUNA Brokerage Services, Inc.,* a broker/dealer focused on serving credit union members. CUNA Brokerage Services, Inc. is an affiliate of CUNA Mutual Group. For more information about CUNA Brokerage Services, Inc., please visit www.cunabrokerage.com.
Planning and saving for your future requires patience, attention and often the help of someone you can really trust. That's why working with your credit union's financial advisor in this increasingly complex environment makes sense. Your unique needs are always put first by someone dedicated to your financial planning and savings.
Check the background of this firm on FINRA's BrokerCheck.
Retirement Planning - We offer a variety of options for pre- and post-retirement planning. We can also assist with 401(k), IRA and TERI rollovers.
Educational Funding Planning - There are special accounts specifically designed to help save for college. The two most popular are the Coverdell Educational Savings Account (ESA) and the 529 College Savings Plan.
Investment Products - We can help you analyze your situation and suggest investment strategies for you to consider such as brokerage accounts, mutual funds and annuities.
Insurance Products - With life insurance and long term care insurance, you can protect you and those you love from an unexpected death, illness and even from living longer than expected.
Wealth Management Services - We offer options such as trust services, estate planning** and professional money management.
For more information about any of the products and services listed below, or to arrange a personal consultation, please call (803) 376-2807 or have a representative contact you.
*Palmetto Citizens Trust and Investment Services professionals are registered representatives of CUNA Brokerage Services, Inc. Representatives are registered, securities sold, advisory services offered through CUNA Brokerage Services, Inc. (CBSI), member FINRA / SIPC, a registered broker/dealer and investment professional, which is not an affiliate of the credit union. CBSI is under contract with the financial institution to make securities available to members. Trust services available through MEMBERS Trust Company, a federal thrift regulated by the Office of the Comptroller of the Currency. Not NCUA/NCUSIF/FDIC insured, May Lose Value, No Financial Institution Guarantee. Not a deposit of any financial institution. CUNA Brokerage Services, Inc. is a registered broker/dealer in all fifty States of the United States of America. Representatives are neither tax advisors nor attorneys. For information regarding your specific tax situation, please consult a tax professional. For legal questions, including a discussion about estate planning, please consult your attorney. FR-2390268.1-0119-0221

**Representative is not an Estate Planning Specialist. For information regarding your specific needs, please consult an attorney or professional Estate Planning Specialist.